Here are the top five BEST things I found or saw this week!  Happy Sunday!
Sunday Best
(1) BEST Info-graphic:
Pinky Princess Girl (http://princesspinkygirl.com/kitchen-cheat-sheet/) has created this rock star kitchen cheat sheet montage!  Its amazing!
(2) Best Video:
Rollie the Armadillo playing — if you don't smile you might not be human!
(3) Best Food Blog Post:
Mandi of Life Your Way posts about things you don't have to throw away — as a good Southern girl I knew one of them, but they were great tips!
(4) Best Item of Desire
Dear Talbots:  Stop making my Mellie Grant + Olivia Pope dreams come true in one beautiful Fall blush item. — The Long Double Faced Jacket (retail: $189.00).  You know I'm a graduate student…..seriously.  Stop.  (not really).  Love: Me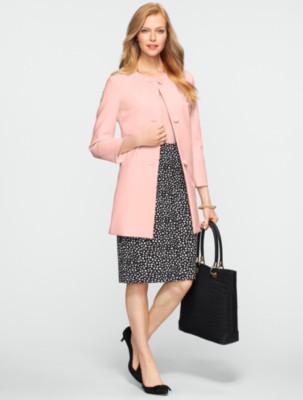 (5) Best in Love:
My husband and I are not the conventional lovers.  We don't dribble pleasantries, or talk about how we are each others moon and stars.  So this list of 13 cards for couples with unconventional definitions of romance by the Huffington Post was made for us!
So I am an Instagram kinda woman — and this summer I fell into the fashion bloggers of Instagram. The take photos of their statement necklaces, newest shoe finds, and even point folks towards great deals. And they also create style challenges.
A style challenge provides a clothing or outfit (e.g. the OOTD — outfit of the day) theme for each day of a given month. The themes could be a color, an item, or like a theme party for your wardrobe (floral prints, beach, MadMen).
So here is my issue with style challenges — some of us just don't have that kind of style! First, I work from home — so some days typically I maybe showered and then slid on a nice pair of yoga pants and slippers. Why? Well my office was mere feet away, and the only one looking at me was the dog. So trying to fit a theme when you know the most traveling you'll do is from your desk to the laundry room is hard to swallow.
Second, while I'd like to think of myself as fashionable — I simply do not own certain items and patterns. I don't wear shorts, I don't have reason to rock high heels (see point number one above), I didn't own anything in mint (granted now I do…but still), I don't wear sequence on a regular basis, and generally I loath floral patterns. I'm not going on vacation or to the pool, so swimsuits are out too.
This leads me to wonder what jobs some of these curators of style challenges have? I know that a few really ARE stylist (e.g. Hillary Rushford (http://deanstreetsociety.com/)). However, what about everyone else? When I do go into the office — I actually work at a VERY fashion forward nonprofit. These gals look like a great LOFT or J. Crew ad on the regular — but even then never sequence, usually not neon colors, certainly not shorts, absolutely not a Tutu. The last time I had a full-time position, I was a State Magistrate judge. Again, no neon — no sequence — heck usually nothing to make you look pretty at all. Secretly in a blizzard, I wore Ugg boots all that shift (it was a BLIZZARD, I do not care what you think — it was cold, and I watched people cross-country ski down the street in front of my office. And people STILL got arrested that day!).
Now that I am a part-time Program Manager and a full-time student, I really took a good look at my closet during these past few months of challenges. A few things came to light — I own a lot of black, a — lot; I do own cute clothing, but I have NO WHERE to go (and yes I do realize that one could dress for the job they want, or wear what they like — but I'm a practical soul and a seersucker dress is not needed for a trip to Panera Bread….). I do like dressing up professionally, but I hate suits because they are ill-fitting on my body (and remind me of when I was a lawyer…ick). I also enjoy looking like Mellie Grant's illegitimate step-child. My dressing up style is conservative Republican meets 1950s housewife — and I am so okay with that (vintage glasses and all).
More so — I enjoy being casual when it is appropriate. I like Maxi Skirts, graphic t-shirts, TOMS, ADIDAS high tops and shell-toes, and yes the dreaded yoga pants when I'm not going to the gym. I like jeans, and they are far from designer. I enjoy statement necklaces, but I buy them from Charming Charlies and EBay — not Ann Taylor and Stella & Dot (cause I'm poor yall!). But….is there anything really wrong with that? Are all of us rolling through life in Under Armor pants and College t-shirts horrible people? Is this, and are well casual folks, the fashion worlds version of "dirty eating" (e.g. if you aren't eating clean then you MUST be eating dirty right?).
I'd like to think that we aren't. I'd like to think that fashion can be a part-time profession. That we can learn to dress our bodies fabulously when needed, and that we can relax into our favorite sweatpants that do NOTHING for our shape or Influenster score when we are going to the grocery store. This does not mean that you can't be casual and still, in a way, fashionable — LOFT always has a lounge line (they recently re-named it Lou & Grey), you can make sure the yoga pants fit properly and aren't faded and piled to high heaven, you can find a nice pair of jeans and a few nice t-shirts (Talbots makes some great cotton tees). Casual is not the same thing as slob — but casual isn't a dirty word.
"It's not vanity to feel you have a right to be beautiful. Women are taught to feel we're not good enough, that we must live up to someone else's standards. But my aim is to cherish myself as I am."

– Elle Macpherson
Ah yes — it is the notorious office selfie.  However — I've been meaning to do more posts about fashion and dressing.  So here I go.
I've had lots of people ask me about how I dress.  Now I'm no size 2, nor am I a designer fashion plate.  However, I do try to dress in a way that makes me feel comfortable and confident.  In my 30s that dressing style has turned into a black version of Mellie Grant (First Lady on the television show Scandal (seriously if you don't watch this — you should fix that now!).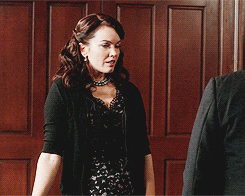 I've taken to loving classic pieces.  Items that look great no matter where you are going — that fit well.  I've taken to dressing FOR my body shape, not what I wish it would be.  I do not wear clothes that are too tight, too short, or any too beyond "too cute!".   If I had an unlimited budget, I would live in Talbots and Ann Taylor.  However – I do not.  So I shop on a budget, with the idea of buying classic items that can go from the office, to class, to dinner.
This outfit was what I chose to wear on a day I had a rather important presentation to make at work.  I didn't want to wear a suit — I work in the third sector (nonprofit) and sometimes a suit feels a little too laywer-esque and gives me PTSD from that time when I WAS a lawyer.  So I chose:
Black Sweater Dress — Talbots
Brown Woven Belt — NY & Co
Brown Riding Boots — Lauren by Ralph Lauren
Grey Pearls — J. Crew
Now I KNOW right now some of you are about to yell at me.  You're thinking — "Didn't you say you shop on a budget?!"   Well yes, I did.  But budget dosen't mean I can't wear good brands.
The sweater dress was picked up during Talbot's annual 90% off Red Tag sale (just be patient — it won't start at 90% off, but it will get there).  Sure you're buying a sweater dress in the middle of the summer — but it's so worth it!
The belt was from an affordable brand — New York and Company and I've owned it for like four years.  It's actually too big — but I love it so much.  So I use a long bobby pin to hook the belts end piece to the part wrapped around my waist.
The riding boots came from TJ Maxx — so you know I got a GREAT deal on them.  I also have owned them for like four years.  And the pearls were picked up either at the J. Crew Factory Outlet (here in Virginia there is one in Williamsburg, and two in Lynchburg that I like) or at the J. Crew Factory Warehouse Sale (yes friends the J. Crew warehouse is in Lynchburg and they have the most incredible yet frustrating sales on the face of the planet — more on that sale later).
So I did shop on a budget, I still got the style I love, and I looked fantastic for my presentation.
I'll be working on more fashion based post throughout 2014 including a Honeymoon based post on traveling fashion and my first fat-kini (yes friends, I rocked a bikini and looked fantastic doing it!  No need to be a size 2!  Really!), and more easy on the eyes and budget office/casual fashion — so look out for it!
Until then — you can catch a little more of my style preferences on my Pinterest board: Fashion, Turn To The Left! 
So I had a lunch meeting with a big wig at a local bank. So I decided I should put on my big girl clothes. Hair in a conservative bun, librarian glasses, pearl earrings. You know; the stuff lawyer dreams are made of. Then I decided to go jacket less; but pair a cream 3/4 sleeve top with a pair of more trendy royal blue pants (top and pants both New York and Company). Finished off the look with black patent heels from Nine West.
I was proud. Conservative but age appropriate. Provided confidence to my position, but I didn't look overly stuffy. And then I looked outside. Rain. Bah!
Thankfully it was raining but not raining when I pulled up to my parking spot at work. So I trotted the few blocks to the restaurant safely an mostly dry. Meeting went great!
Then I had to make it back to the office…and it was raining. Torrential downpour kinda rain. The rain that floods streets and makes a roughly four block walk a four block swim. And my poor shoes and pants have suffered greatly. Soaked from the knee down. *sigh* Nothing says professional kick-ass career woman than squishy flooded shoes and wet pants. Thankfully I just had some odds and ends to quicky finish in the office before squeeking and squishing out the door.
That's what I get the one day I am not academic business casual (well no it was steamy hot Tuesday when I pulled out the full black suit for the Board Meeting…). Oh well. I still love these pants. So much that I have the heat on in my car to dry out….
LOVE THIS!
Michaela Angela Davis:  Fashion, Style, Race, Gender, and Hip Hop
An expert cultural critic and writer, Michaela Angela Davis has been exploring the power of urban style, race, gender, and hip-hop for nearly two decades.
Having begun her career under the mentorship of Susan L. Taylor at the incredibly successful Essence, Davis went on to become founding fashion director at Vibe, and later editor-in-chief ofHoney, a premiere magazine for 18 to 34-year-old urban women that, under her editorship, was the number one growing women's title at the time.
Over the years, Davis became known for her insightful perceptions and seasoned opinions, penning fashion and culture commentary for publications in the US and worldwide. A stylist to such celebrity icons as Mary J. Blige, Oprah, Prince, and Donald Trump, Davis was often consulted on film and television sets for her fashion forward sense and intuition.
Her interests went further than fashion, however, as she maintained a close pulse on the developing urban culture and its roles and influence in society today. Perhaps best known for her work with Take Back the Music, Davis founded the initiative to promote the next generation of the hip-hop movement to focus on the musical value of the genre instead of the negative, often sexist attitudes that are so prevalent now.
A dynamic woman known for her insightful perceptions of popular culture, Davis developed MAD Free, a multi-platform conversation project dedicated to spurring and expanding the conversation about black women's image, beauty, and power. Also devoted to several philanthropic efforts, she serves on the board of Black Girls Rock!, ImageNation, The Brooklyn Community Arts and Media High School, and conducts her own monthly career-mentoring program. (Biography from THIS site)