Hello friends! I am a voracious reader, and I love that to start the new year some of Christian author Beth Moore's books are free! You can download them on Amazon or Barnes and Noble. You don't need an e-reader either! You can download app's on your PC, Mac, Android tablet or phone; and IPhone or IPad! So enjoy! I know I will!
http://blog.lproof.org/2013/12/a-free-book-for-the-new-year.html
My Husband loves anything Pioneer Woman
So I love to cook.  I forget that I love to cook because well …the life of a working PhD student does not usually lend itself nicely to cooking.
As one of my professors and mentors always says: "CPAP is a jealous mistress".   CPAP stands for the Center for Public Administration and Policy which is the department where I am currently indentured studying to hopefully earn my PhD (or go clinically mad trying…).  PhD's are difficult, time consuming, all consuming, exhausting, and battering.  Once you think you've got it right — your professor or heck just a random professor will tell you how wrong you are.  You'll fix that error, re-submit, and then they will tell you you did it wrong again and make you change it right back to your first attempt (which you thought was right anyhow!).   For those of my fellow student colleagues who also have children — my God!  Are you nuts?!  I'm amazed I still have a husband and a dog who love me with the way I neglect them, and sometimes snap at them when they come to ask me something….if you have small humans, good grief either you or your child must be up for sainthood!

read more
Ooops! So here is the calendar!
So technology is great — until you forget to adjust the sharing links.  Here is the link to the calendar that is now open to the public to download 🙂 Enjoy!
So I always pledge that I will do better in the new year.  I will organize better — I will be better — I will be amazing.
Sure it does not always work out that way.  Currently my workspace looks like this:
read more
"It's not vanity to feel you have a right to be beautiful. Women are taught to feel we're not good enough, that we must live up to someone else's standards. But my aim is to cherish myself as I am."

– Elle Macpherson
Ah yes — it is the notorious office selfie.  However — I've been meaning to do more posts about fashion and dressing.  So here I go.
I've had lots of people ask me about how I dress.  Now I'm no size 2, nor am I a designer fashion plate.  However, I do try to dress in a way that makes me feel comfortable and confident.  In my 30s that dressing style has turned into a black version of Mellie Grant (First Lady on the television show Scandal (seriously if you don't watch this — you should fix that now!).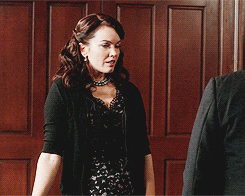 I've taken to loving classic pieces.  Items that look great no matter where you are going — that fit well.  I've taken to dressing FOR my body shape, not what I wish it would be.  I do not wear clothes that are too tight, too short, or any too beyond "too cute!".   If I had an unlimited budget, I would live in Talbots and Ann Taylor.  However – I do not.  So I shop on a budget, with the idea of buying classic items that can go from the office, to class, to dinner.
This outfit was what I chose to wear on a day I had a rather important presentation to make at work.  I didn't want to wear a suit — I work in the third sector (nonprofit) and sometimes a suit feels a little too laywer-esque and gives me PTSD from that time when I WAS a lawyer.  So I chose:
Black Sweater Dress — Talbots
Brown Woven Belt — NY & Co
Brown Riding Boots — Lauren by Ralph Lauren
Grey Pearls — J. Crew
Now I KNOW right now some of you are about to yell at me.  You're thinking — "Didn't you say you shop on a budget?!"   Well yes, I did.  But budget dosen't mean I can't wear good brands.
The sweater dress was picked up during Talbot's annual 90% off Red Tag sale (just be patient — it won't start at 90% off, but it will get there).  Sure you're buying a sweater dress in the middle of the summer — but it's so worth it!
The belt was from an affordable brand — New York and Company and I've owned it for like four years.  It's actually too big — but I love it so much.  So I use a long bobby pin to hook the belts end piece to the part wrapped around my waist.
The riding boots came from TJ Maxx — so you know I got a GREAT deal on them.  I also have owned them for like four years.  And the pearls were picked up either at the J. Crew Factory Outlet (here in Virginia there is one in Williamsburg, and two in Lynchburg that I like) or at the J. Crew Factory Warehouse Sale (yes friends the J. Crew warehouse is in Lynchburg and they have the most incredible yet frustrating sales on the face of the planet — more on that sale later).
So I did shop on a budget, I still got the style I love, and I looked fantastic for my presentation.
I'll be working on more fashion based post throughout 2014 including a Honeymoon based post on traveling fashion and my first fat-kini (yes friends, I rocked a bikini and looked fantastic doing it!  No need to be a size 2!  Really!), and more easy on the eyes and budget office/casual fashion — so look out for it!
Until then — you can catch a little more of my style preferences on my Pinterest board: Fashion, Turn To The Left! 
From one kid who loved boy bands to you — Merry Christmas, Happy Holidays!
Best part of it all – is that my husband sent this to me to watch!  Love it!
So I'm a skeptic.  I usually have no belief in promises of money coming to me that don't involve hard work — no home sales, no ponzi schemes, no get rich quick ideas.   Money comes to those who put in the sweat equity for it — as in having a job (or in my case like five…..).
So when I stumbled onto the Ebates website — I was myself…meaning I was doubtful.   Lemme get this straight — I search for the store I was going to buy something from anyhow on the Ebates website, and then as long as I click THAT link and shop from there they will send me a small percentage of my purchase price back to me?   That's it….click, shop, check out, and get a check?  Just like that…no way!
Yes way.    I just got back one of my nice Ebates checks (the great thing is I forget about them until they arrive in the mail — yay funds!).   Sure for me it was just a $10.77 check, but that's better than getting NOTHING back on something I was already going to buy!  Now I'm not that faithful EBates person who gets hundreds of dollars (plus PhD poverty means I don't always buy things that are eligible…like my tons of text books and printer ink)– but I've been satisfied with my experiences and its so easy when you remember to do it.
Want to sign up?  Just go HERE and you can — plus its double cash back all holiday season long at some retailers 🙂